Cognitive Behavioral Therapy
Cognitive-behavioral therapy (CBT) is psychotherapy that concentrates on changing problematic emotions, conducts, and thought patterns by questioning and evacuating negative or non-rational viewpoints. Thought of a "solutions-focused" type of oral therapy, CBT works on the theory that thought and perception influence behavior.
CBT for Addiction
What is Cognitive Behavioral Therapy?
Here at La Jolla Recovery, we know all too well that feeling upset, in many cases, may mislead our perception of reality. CBT aims to find evil thoughts, evaluate whether they accurately interpret reality, and, in case they are not, use methods to question and resolve them. Cognitive Behavioral Therapy adds to the quality of life and transfer after rehab and detox in a way that positively impacts mental health. CBT, or cognitive behavioral therapy, helps with some mental health disorders, are OCD, schizophrenia, depression, lethargy, anxiety, and stress. These are very common in early sobriety, and attending them can reduce relapse, increase outcomes and affect the overall well-being of our clients. These tools are easily transferred in reintegration into society and benefit recovery with challenges in family, relationships, work, and pandemics such as Covid and society.
The Positive Outcomes of CBT
CBT is suitable for people of all age groups, children and adolescents included, and adults. Data shows that CBT can tackle several conditions, like depression, anxiety disorders, post-traumatic stress disorder, eating disorders, obsessive-compulsive disorder, insomnia, and other problems.
La Jolla Recovery is a rehab that uses science-based therapies such as CBT and DBT. CBT is the desired type of therapy and a good choice for therapists because of the short-term success rates; often, between 5 and 20 therapy sessions are enough to gain results. Are you coming from states such as Texas, Arizona, or New York? Let us offer a space on the inspiring beaches of San Diego with the latest therapy.
CBT in Therapy
CBT concentrates on current events and emotions in real-time instead of childhood events. CBT pays attention to present real-time issues derived from emotions. A CBT therapist will most likely inquire about the patient's family background to understand the person but focus on the present, not past events. The importance is what the person believes to be accurate and related to their anxiety or problem. The client is then guided to deal with influential affairs virtually and to question irrational thoughts, cogitation, or catastrophizing behavior. For instance, a troubled person who does not have a partner will be advised to take specific actions but handle any negativity they may attribute to present-time facts. Drug addiction, such as cocaine, Xanax, or heroin, intensifies many erroneous belief systems. CBT can have short-term mental health results in therapy that are key to experiencing lessening discomfort, which is common in early recovery.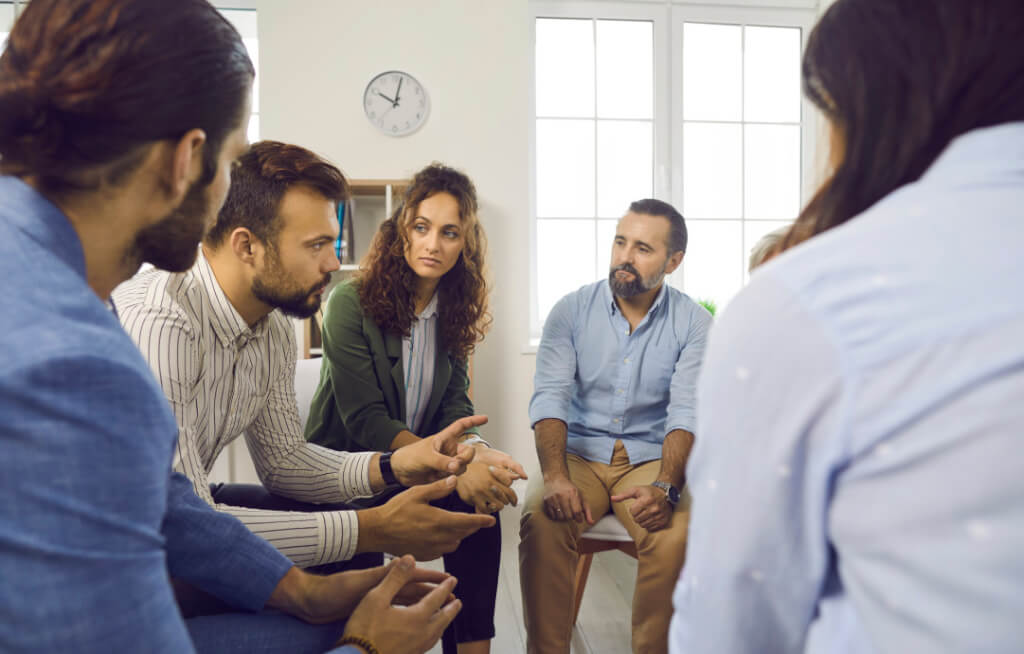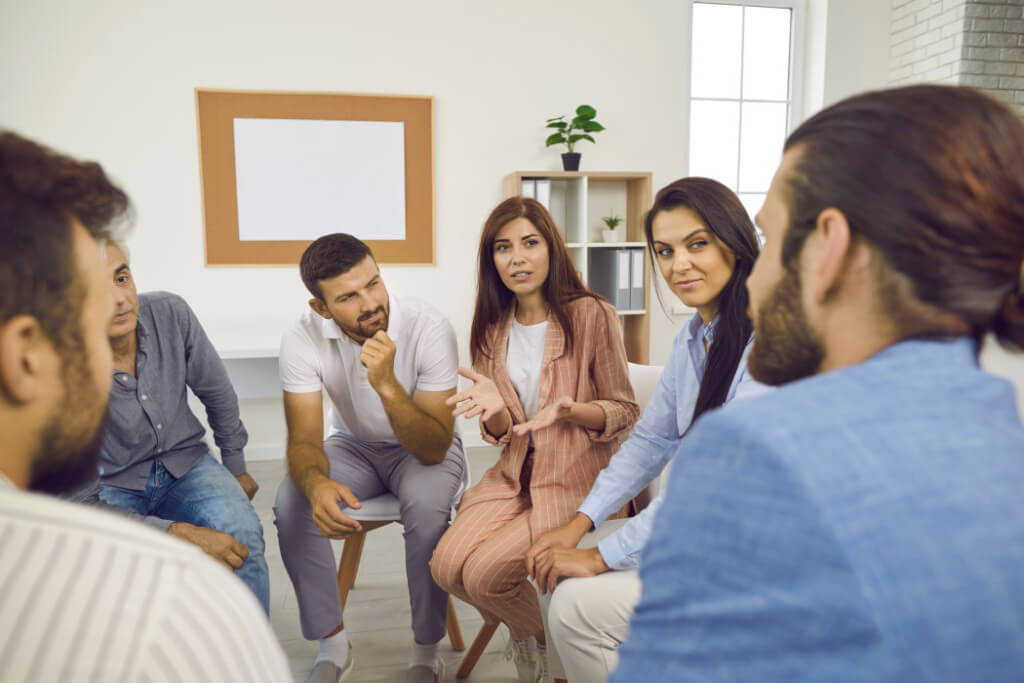 How long does CBT generally take to show results?
A typical cycle of CBT is about 5 to 20 weekly sessions, typically 45 minutes each. The continuation of treatment for more sessions spread further apart while the patients maintain performing skills independently. The entire treatment could last between 3 to 6 months and longer if needed.
Patients will learn to identify and challenge harmful thoughts in treatment and replace them with a more realistic, healthy perspective. Patients may receive assignments between sessions, such as exercises to observe and recognize their thought patterns and apply the tools they gained to real situations in their life.
CBT therapies tend to be organized and systematic, making it more probable that a patient obtains more positive thoughts and conduct. For example, patients with anxiety or a sleep disorder may be invited to write down the thought patterns they experience when something unsettling happens and then look at this with the therapist to see how beneficial and exact the thoughts are. The practice of repetition and focus is an essential part of the structure of CBT. CBT focuses on constructing new habits.
Also, CBT therapy plans can be uniform and verified so that mental health professionals may pinpoint which therapies are effective, how much time they need, and the advantages that people can benefit from.
Studies have concluded that CBT is e significantly effective. CBT was also effective in treating panic disorder, phobias, and post-traumatic stress disorder. CBT may be used in online therapy, which we implement at La Jolla Recovery when health situations or Covid 19 restrict clients from attending certain facilities or therapists need to reach clients outside of their physical parameters.
Which CBT methods can you employ in everyday life?
Is CBT Effective for Healing Relationships?
Many people cope with off-putting or unhelpful thought patterns; however, rational and conduct values may help deal with them. The first step is to rearrange harmful thought exaggerations. You can focus on thought elasticity by asking questions such as, "Do you think that maybe that another viewpoint is more accurate?" "Have you any thoughts that could disprove this idea?"
The second is to solve problems. If your viewpoints are fixed, resolve the issue, or make it more controllable, for example, by listing the stages to finish a task that seems overpowering. The third step is to understand and be calm about what you can't control. Next, you can go forward and focus on things that matter without letting your feelings take control.
Many look to therapy when their relationships are in crisis. The option of completing a CBT course can produce benefits directly for the person in the course and indirectly for those people close to them. Common issues in relationships may include anxiety which leads to rigidity and irritability, causing, in turn, conflict. Another is a lack of presence, and a CBT course may assist with interpreting someone's purpose to be present into a workflow that will make it so. An optimistic attitude, quality sleep, and healthful thinking are also means by which CBT can heal a relationship.
What Ailments Can CBT Treat?
Can CBT Assist with Depression?
At first, CBT focused on depression, and studies now demonstrate that it can help with many ailments, such as post-traumatic stress disorder, anxiety, phobias, and substance abuse. Forms of CBT have also been developed to take on eating and sleeping disorders. Not only can it treat clinical health issues, but CBT may also deliver the abilities some require to recuperate their social bonds, joy, and general satisfaction with their lives.
Indeed, a series of studies point to the benefits of CBT for helping with depression. These studies show that CBT is repeatedly as effective as psychiatric medication. Patients treated with CBT may additionally be less likely to fall into depression after treatment than those who receive drugs. CBT may deliver patients with the personal resources they require to heal and to prevent a depressive faze relapse in the future.
Can CBT help with anxiety?
CBT is successful and long-lasting care for anxiety, research shows. CBT offers the training to transform thoughts and behaviors responsible for anxiety. For example, someone with social anxiety might believe, "I feel so uncomfortable at social gatherings. Everyone must think I'm weird." This thinking pattern could lead to emotions of grief, embarrassment, and apprehension, triggering behaviors of isolation and evasion. CBT could help patients identify and question inaccurate thoughts and then swap them with representative thoughts, changing the circle of anxiety.
Cognitive Behavioral Therapy for Insomnia, or CBT-I, is a short-term treatment for chronic insomnia. The therapy aims to reframe people's thoughts, feelings, and behaviors around sleep. People with insomnia often enter a cycle of trying to make up the sleep they lost, poorly sleeping the subsequent night, and then becoming anxious about sleeping. These behaviors can include going to bed too early, taking naps, or relying on alcohol to fall asleep. The role of CBT-i is to change those patterns through techniques such as challenging anxious thoughts and adhering to a set sleep schedule.
Can CBT help with eating disorders?
Improved Cognitive Behavioral Therapy, or CBT-E, is a kind of CBT intended to tackle eating ailments including anorexia, bulimia, and binge-eating disorder. CBT-E focuses on exploring the reasons the patient fears gaining importance to allow the patient to decide to make a change. CBT-E stands in contrast to Family-Based Therapy, a leading practice in which the person's relatives take on an important role in addressing the disorder and eating patterns at home.
CBT was started by psychiatrist Aaron Beck in the 1960s, following his disappointment with Freudian psychoanalysis and a desire to explore more empirical forms of therapy. CBT also has roots in Rational Emotive Behavioral Therapy (REBT), the brainchild of psychologist Albert Ellis. The two were pioneers in changing the therapeutic landscape to offer patients a new treatment option—short-term, goal-oriented, and scientifically validated.
The inventor of cognitive-behavioral treatment is Aaron Beck, a psychiatrist at the University of Pennsylvania. In the 1960s, Beck was practicing psychoanalysis. But he realized that the approach was failing to treat his depressed cases—rooted negative thoughts prevented them from defeating the disorder. So, he created cognitive behavior therapy, rooted in the theory of Albert Ellis's rational emotive behavior therapy, to change these harmful patterns of "emotional reasoning" and spark genuine change.
What is rational emotive behavior therapy?
In the 1950s, the clinician Albert Ellis became discouraged by psychoanalysis. When handling his patients, he realized that becoming aware of one's views and difficulties didn't necessarily change them. Ellis produced what is now called "rational emotive behavior therapy" (REBT). The groundbreaking treatment is based on his core belief: most of our behavioral and emotional difficulties—from getting over a breakup to managing child abuse—stem from our own irrational beliefs about our situations and how we should be treated. By substituting those beliefs, we can change our emotions and reactions for the better.
Rational emotive behavior therapy later sparked the creation of cognitive behavior therapy. Both embrace the sentiment that ideas, beliefs, and attitudes predominantly generate emotions, behavior, and thinking, so changing one's thinking can change emotion and behavior. Yet, there are also a few variations between REBT and CBT. Unlike CBT, REBT explores the profound roots of emotional distress, encourages unconditional self-acceptance, and distinguishes between self-destructive, negative emotions and appropriate negative emotions.
How does CBT differ from other forms of therapy?
Psychoanalytic and psycho-dynamic therapy and many other approaches tend to focus on exploring the past to gather understanding and insight. CBT is distinct because it focuses on the present. What are you thinking right now? What did you think when you began to feel anxious? Are there any destructive patterns that emerge? The goal is to understand what happens in your mind and body in the present to shape how you respond.
At La Jolla Recovery, we believe in only using evidence based therapies for the healing and positive outcomes of our clients. CBT is an amazing process and we would love to share the other amazing aspects of our space and team that make us one of California's rehab of choice.